5 Share Friday, where you get 5 life upgrades / hacks for free, tested by myself, where I only share the best.
1. Quote I've been pondering this week "The point is not to pay back kindness but to pass it on" – Julia Alvrarez
2. Every year, I watch Steve Jobs' commencement speech at Stanford University. I watch it multiple times a year as it's so powerful, inspiring and true and I made time for it again this week. If you've never watched it or haven't seen it in a while, why not check it out? Just click on the picture below. Stay hungry, stay foolish.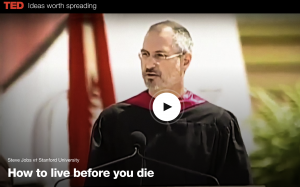 3. I've been using my new carry on bag for travelling and it's changed my life. If you're after a practical carry on the Osprey Farpoint 40 is the best one I've ever owned. It turns into a rucksack or carrys like a bag. It's lightweight and means no more waiting for bags at the other end (approved for cabin carry on), it's a no brainer.
4. What I'm listening to: 10% Happier podcast. This week the guest was Tim Ferriss and it was awesome. Dan has a book that was my inspiration for trying meditation, I've not looked back since and it's something I do every day.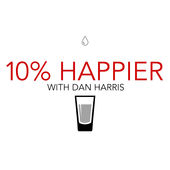 5. This week I stayed in a hotel at Heathrow airport for a few nights (for Unity meetings). So I packed my trusty earplugs in case of aircraft and road noise. I don't stay anywhere without these babies as they don't fall out or feel like you have earplugs in your ears, yet they block almost all noise. It turns out the hotel had great soundproofing from the outside, just not the inside, where my neighbour liked to wake up to loud television at 5:30am, these plugs helped me dream of my future Land Rover and all the fun I'm going to have.