1. Quote I'm pondering this week – "You only lose what you cling to."  – Buddha
2. New breakfast addition in our family – We've been wanting to mix up breakfast at home, and my wife Mandie found this terrific superfood breakfast cookie. It takes just 15 minutes to prepare and cook, amazing! We love them and I think you will too.
Credit to http://www.wifemamafoodie.com/superfood-breakfast-cookies/ you'll find instructions there.
1 cup old fashioned rolled oats (use certified gluten-free oats, if needed)
½ cup oat flour*
½ cup dried cranberries, raisins, or other dried fruit**
½ cup unsalted pumpkin seeds (pepitas) or other seed/nut**
¼ cup ground flaxseed
1 tablespoon chia seeds
1 teaspoon cinnamon
½ teaspoon baking powder
¼ teaspoon salt
1 large mashed banana or ½ cup unsweetened applesauce
3 tablespoons melted coconut oil or butter
3 tablespoons coconut nectar/syrup, honey, or other liquid sweetener
2 tablespoons almond milk or other milk of choice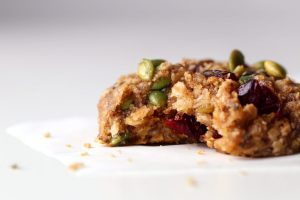 3. Purchase I'm enjoying – Keen's Oakridge waterproof hiking shoes. With winter here and my 4 yr old Keens letting in the water, I've been using a new pair for a couple of weeks now. These are great for walking the dog, hiking the trails or just being outside in the rain. They do men and women's versions, and If you work somewhere with a casual dress code, you could even get away with wearing them at the office. Keen do some great casual shoes for this however. Waterproof shoes are a must in Denmark.
4. Article I read that's helping me see Uber in a new light – INC.com ran this piece about Ubers new CEO and his response to London denying Uber an operating license. Uber is about to change and that change involves emotional intelligence. Dara the CEO, wrote an email to all employees, showing an avuncular side to his leadership, one that gives hope Uber can show the world it's an ethical business moving forward.
5. With Brexit in the UK looming –  It's interesting to read the differing opinions available. I read this Guardian piece and it made me wonder what's to come? Many people in favour of Brexit forgot the prosperity Europe brought us, aligned with globalisation (the world moved on and so did we). Many people against Brexit forgot people want to feel empowered in their own country (not ruled by those in a foreign land). It's unbelievable the UK got to this stage with a first past the post voting system. A change this big would benefit from needing a majority vote, something like 60%. Anyhoo..
If I were in the UK at this time, I'd be researching how to be prepared for problems, hoping they wouldn't happen. Here's some interesting data and advice on what you can do if you're interested: Prepare for Brexit
Enjoy your weekend everyone!