It's 5 Share Friday again. You know the drill by now. It's 5 things I'm sharing from this week that have a high chance of sparking interest in your life. This comes with a money back guarantee, though you'd need to give me money first (it's very welcome btw).
1. Quote I've been pondering this week "Until you value yourself you will not value your time. Until you value your time, you will not do anything with it." – M. Scott. Peck
2. I love writing , so after taking a new job which requires a long commute until I move house, I needed a solution to write on the go. I chose this Logitech keyboard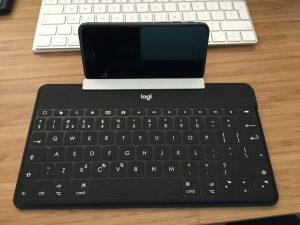 I've been using it for a few weeks and have to say it's fantastic. If you use an iPad or iPhone for your work / writing then this is the keyboard for you. That's my iPhone above, I use the Evernote app for drafting and research.
3. Where I work, I sit next to Richard, a friend and colleague I happened to work with many years ago. He always found the funniest things on the internet and not much has changed in that regard. He sent me this compelling and hilarious read. If you want to laugh out loud and have a smile on your face then click the link and read it, brilliant.
4. This week I received a fresh copy of The five minute journal (I've filled my last one up). Every morning for five minutes I jot down 3 things I'm grateful for, 3 things that would make the day great and finally a daily affirmation.  Before bed, I jot down 3 amazing things that happened that day and how I could have made the day even better. This five minute journal has a template on every page and it only takes five minutes. Using this for the last 12 months has significantly enhanced my life.
5. I've been studying ICO's again as part of my quest for financial freedom (I added crypto currency into my life earlier this year). This month I've gone for some SPF tokens by supporting https://sportyfi.io/, it may all fall flat, it may go through the roof. What I do know is that you've gotta be in it to win it*
*This is not financial advice, I'm merely sharing how crazy I am.